There are different types of mixers to make bread. Spiral mixers, with single or double tool, twin-arm mixers, fork mixers, and horizontal mixers. Each one has its specific uses. As a baker, when should you use a fork mixer?
The main steps in mixing dough
Water, flour, salt, yeast or sourdough: it's hard to find a recipe simpler than bread. But the key to a great quality loaf is the process of combining these ingredients.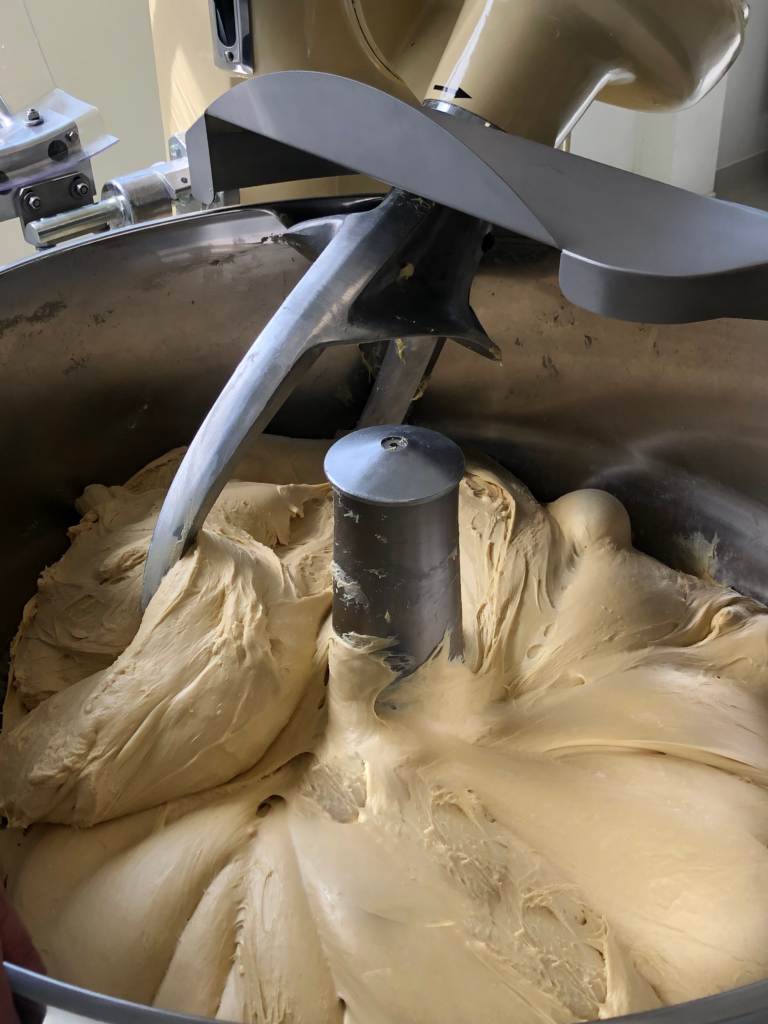 Kneading: this phase consists of mixing the ingredients in a circular motion until the dough takes shape and becomes consistent.
Stretching: during this step, the dough is continuously lifted towards the mixer head, from right to left and vice versa. This constant movement creates a flexible dough.
Aeration: during this phase, the dough is lifted then quickly folded forward, with a pause before lifting and folding again.
Until the end of the 19th century, these steps were carried out manually by bakers. These very physical movements could cause a lot of strain. The mechanization of kneading gradually improved working conditions in bakeries. Many innovations have since been found to improve ergonomics and health in a bakery environment. Learn more here.
Mahot: The inventor of fork kneading
At the end of the 19th century, the French engineer E. Mahot developed a twin-arm bakery kneader.
Due to its rather high price, it was mainly used in industrial bakeries.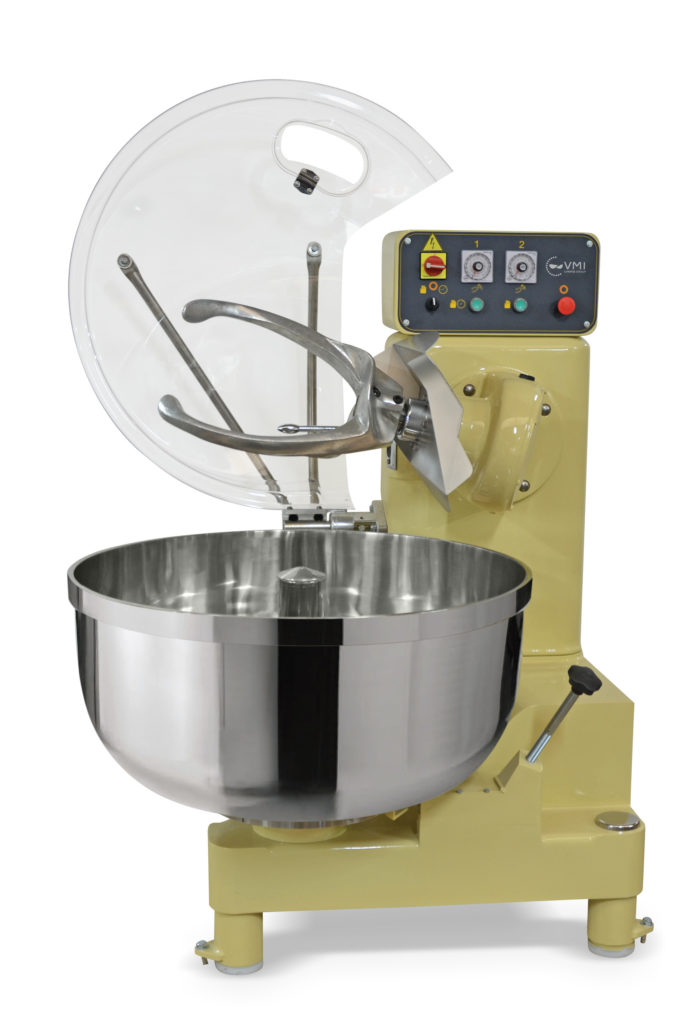 Mahot then developed a mixer with only one arm and managed to achieve the same results as the twin-arm mixer. This machine was also less expensive. Other models then came to improve the blowing of the dough using a single mixing tool in the shape of a fork. In 1960,
Michel Bouton, then director of Ets Mahot, created a revolutionary kneader with a patented fork tool. This mixer is still one of the most high-performing tools used in bakeries today, producing breads of exceptional flavor and quality.
Mahot mixers are still made in France by VMI.
The fork mixer, the benchmark for artisanal bread
Today, fork mixers provide the ideal balance that many bakers are looking for: gentle mixing to limit the heating of the dough and quick production times. This type of dough mixer works mainly by extension and shearing, creating a supple dough without excess heating, which can impact the quality of some traditional bread recipes.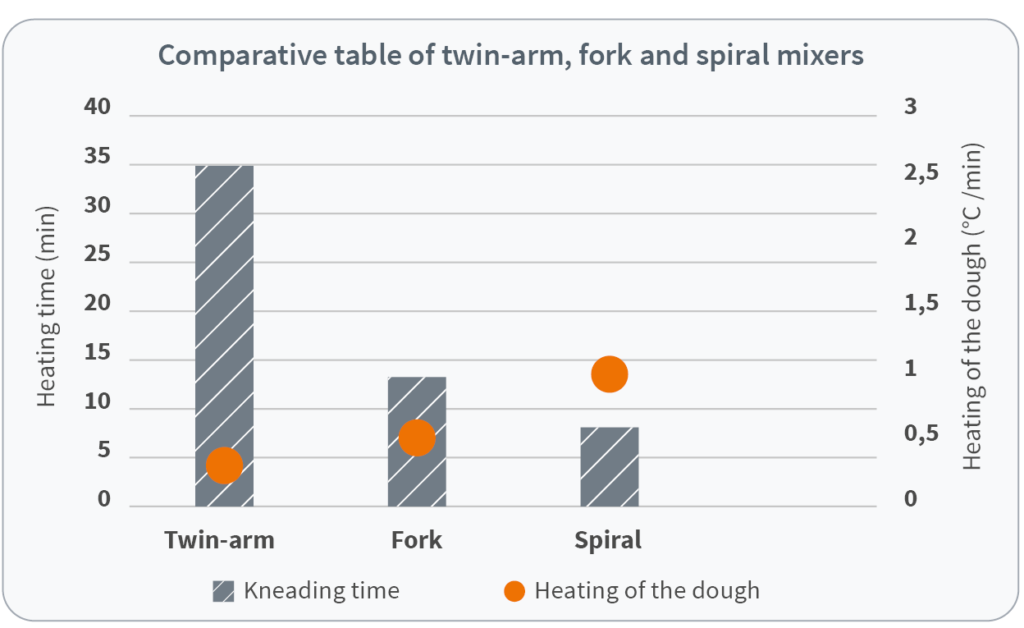 Global bread consumption is changing
The increase in consumption and the growing consumer appetite for white bread has led bakery professionals to turn to spiral mixers, which are highly efficient for large-scale production.
But as trends evolve, consumers are becoming more aware of traditional bread baking methods and are increasingly attentive to the nutritional value of bread. With its gentle process, this is where the fork mixer comes in. It can be used for all kinds of artisanal breads, brioches and other loaves with the thick and tasty crumb that we appreciate so much today.
More and more industrial bakery professionals, as well as retail bakers, are creating artisanal breads with less intensive mixing. This produces loaves with an airy, thick and tasty crumb.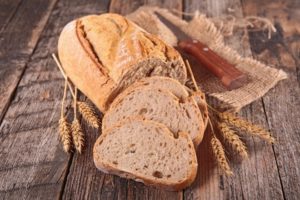 A savoir faire you can taste
The flavor and lightness of artisanal bread, as well as its digestibility, are obtained through three stages.
Pre-mixing and kneading with significant oxygenation of the dough, without excessive heating
Long resting and fermentation times
Ideal baking, without excessive heat, to form a golden-colored crust
Mixing adapted to new trends
Bakers are always looking for the right balance between the profitability and the best possible bread quality for their customers. With the craze for artisanal bread, major bakery brands are choosing fork-mixing technology, suited to their volume and productivity requirements. The gentle and slow mixing, with long resting times, can be managed in an automated way and on a very large scale. This enables bakers to make baguettes, croissants, rolls, milk breads and brioches, with the highest production value without any impact on productivity or profitability.
Automated kneading systems, with one or more mixers and several dough rest stations ensure efficiency in the production line. The bowls can be easily transferred for resting, fermentation or other steps in the mixing process. Hourly capacities can go up to 4,500 kg/9,900 lbs per hour for larger installations.
While fork mixers are a favorite with craft bakers, with bowl capacities starting at 16 kg, larger kitchens can also reap the rewards of automated kneading using fork mixers.

Mahot laboratory mixers are also used by millers to test their flour through reproducible and measurable tests.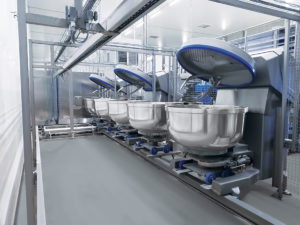 Which fork mixer and which mixing tool?
The shape of the mixing tool is essential for blowing a large amount of air into the dough. The VMI range includes 4 families of tools compatible with the fork mixer range, designed for different operations and processes, and all made in France.
To find out more about VMI fork mixers for craft bakeries, fill in the form below to download the brochure.